Healthcare Use Cases
Telehealth
Making healthcare more convenient.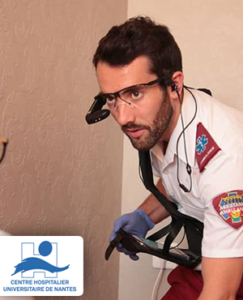 Emergency responders can transmit in real-time a video of the scene of an accident to an emergency medical dispatcher to help them better assess the seriousness of the situation and provide a faster and more adapted response by removing the emotional context of the situation.
Emergency care use case
Smart glasses with XpertEye allow emergency services in Nantes (France) to have a better understanding of the situation, and therefore optimize the response they provide.

Watch the video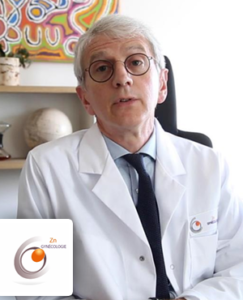 Remote doctors are able to guide on-site healthcare staff wearing smart glasses and show them what needs to be done during a medical procedure. On-site medical staff does no longer have to rely only on their own eyes and interpretations to execute the most precise tasks but they can use over-the-shoulder support by a remote expert to increase efficiency.
Gynecological follow-up
Dr. Moy, OB-GYN in Rennes (France) specialized in infertility treatment, uses XpertEye Lite for teleconsultation. As patients are often young active women with busy schedules, sometimes living far away from the doctor's office, teleconsulting offers real comfort for them and eases the treatment renewal and the treatment follow-up.

Watch the video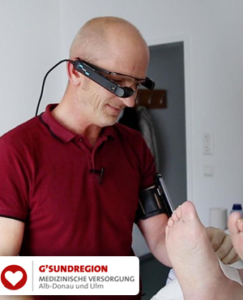 Evaluate and support the treatment of patients at a distance using live video conferencing. Make patients follow-up visits easier through live support of medical staff and expand access to niche medical specialists – despite their location – with our online HIPAA compliant scheduling software.
Improved medical care in remote areas
G'sunderegion Management, a group of interdisciplinary doctors from Germany, leverages XpertEye to improve medical care in remote areas. The solution allows to combine both the expertise of healthcare staff and doctors from a remote location. This is a true asset for G'sundregion organization to optimize the treatment of chronic wounds, for instance.

Watch the video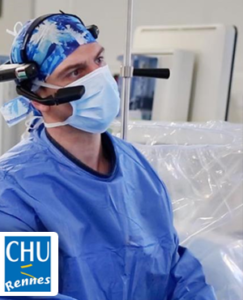 Save time in case of an emergency surgery. Instead of searching among papers or through medical records, surgeons can have access within seconds to real-time, life-saving patient information on the screen of their smart glasses.
Live surgery : Rennes University Hospital and Medtronic use case
XpertEye allows Dr. Kaladji, vascular surgeon at Rennes University Hospital, to collaborate remotely during surgery with a medical-technical engineer from Medtronic, and exchange on the surgical strategy to follow.

Watch the video

Want to discuss your use case with one of our project managers?
Go ahead. Book your meeting.