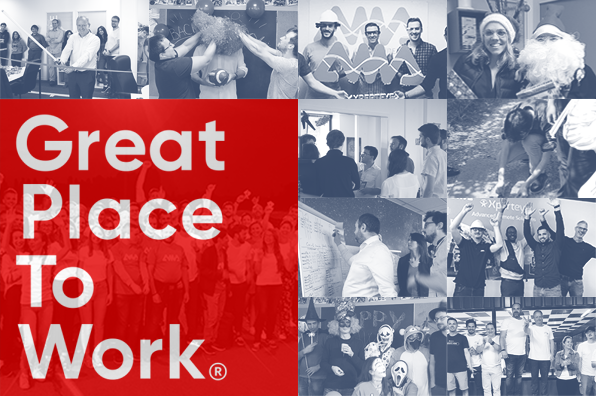 AMA has been awarded Great Place To Work. We are very proud to be recognized as a company where professionals want to work. We foster an open culture and an environment of continuous learning, where you can grow your career alongside the best colleagues you've ever had.

AMA is
a good place to work

I like
coming to the office

Management is involving me
in main decisions
About The Role
We are looking Customer Support Specialists that will be the liaison between our company and its current and potential customers. Day-to-day duties will include answering incoming calls from clients, responding to inquiries, managing complaints, troubleshooting significant customer service problems and providing general information about company's products and services. The role requires availability for a full-time schedule, in rotating shifts in order to cover 24h/7d 365.
Challenge
Do you want to be part of a multinational company with strong values, which cares about its employees?
Do you like new technologies and want to learn more about these technologies which will define the future of work?
Do you have a high level of accuracy and strong communication skills? Are you a near-native ENGLISH speaker? Do you speak French or German or Italian or Spanish or Chinese as a second language?
Then this opened positions are your perfect match.
Responsibilities
Identify, clarify and research customers' issue and provide solutions and/or alternatives
Approaching, solving and following up requests arrived via the dedicated support channels;
Answer incoming calls and respond to customer's emails and chat
Manage large amounts of inbound and outbound calls in a timely manner using applicable software
Research required information using available resources and knowledge base
Follow communication "scripts" when handling different topics
Complete call logs and reports according to operating procedures and using applicable software
Build, assimilate, implement, audit and improve working procedures and knowledge base
Acquires complete information in order to escalate complex issues to the level 1 supervisor

Meet personal/team qualitative and quantitative targets
Upsell products and services

Other duties as assigned
Profile and Skills
Profile
Minimum Bachelor degree or equivalent.
At least 2 years experience in direct customer contact , especially in software industry, preferred (listening to the customer's needs, high level of fluency in written and oral communication)
Accept to work with oncall-duties
Skills
Proficient in English and any of the French or German or Italian or Spanish or Chinese as a second language [Mandatory ENGLISH and one of the following languages: FRENCH or GERMAN or ITALIAN or SPANISH or CHINESE or PORTUGESE]
Experience using Salesforce or other CRM system is a plus
Excellent Communication and proficient in Microsoft suite.
Strong phone and verbal communication skills along with active listening
Strong customer focus and adaptability to different personality types
Responsive, rigorous, organized, proactive and positive mindset – friendly and supportive team player
Ability to work well under tight deadlines and maintain composure in all situation
Ability to multi-task, set priorities and manage time effectively
Ability to work independently and at times with minimal guidance, in a fast paced growing environment
Harmoniously work and support the various teams to build business
Ability to handle stressful situation appropriately
Seize opportunities to upsell products when they arise
About The Role
As an Office Manager in a team of 4, you will be taking care of all administrative procedures to support sales. The goal of an Office Manager is to manage administrative and operational tasks necessary for daily business operations, ensuring the office operates smoothly and efficiently.
Responsibilities
Support the sales team, to include; creating & sending commercial offers and quotes, managing purchase orders and communicate internally regarding the entire sales process.
Updating and monitoring of CRM system, customer reminders at the end of the contracts.
Maintain a regular communication with the Key Accounts Manager and the Sales Administration team in France to ensure a good projects follow-up.
Managing operational tasks including: monitor inventory levels, schedule incoming and preparing outgoing shipments following the instructions of the Logistics department in France.
Take initiative, find innovative solutions to improve efficiency, and seeking out opportunities to assist the team.
Assist Key Account Managers in the booking of their business travels
Invoice customers, record and pay suppliers invoices, and manage cash with the support of Head Office
Job Specifications:
Responsive, rigorous, organized, proactive and positive mindset – friendly and supportive team player
Strong interest in customer relations (listening to the customer's needs, high level of fluency in written and oral communication)
Ability to work independently and at times with minimal guidance, in a fast paced growing environment
Ability to work well under tight deadlines and maintain composure with a strong focus on customer
service
Experience using Salesforce or other CRM system. Excellent Communication and proficient in
Microsoft suite.
Harmoniously work and support the various teams to build business across all regions
Minimum 5 years of experience in a sales administrative role or similar.
Must be able to travel Globally
Enthusiast of new Technology and the potential business opportunities it may offer our customers
An understanding of the AI /IoT/ Augmented Human marketplace, players, and trends