Healthcare Use Cases
Medical training
Better training, more confident practitioners and fewer errors.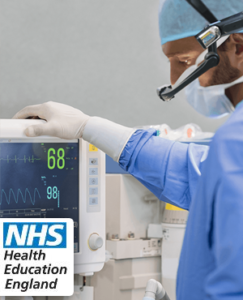 Provide remote, immersive training in real-time with HD video transmission from the surgeon's point-of-view to demonstrate anatomy and surgical techniques to medical students.
Hands-on-training for student doctors
The United Kingdom National Health Service (NHS) is using smart glasses within medical education. Usually, doctors would be accompanied by trainees who are learning hands-on. Now, smart glasses allow to deliver that training and keep trainees safely remote from infectious ward, for instance. The students can ask questions and remotely interact with the professor.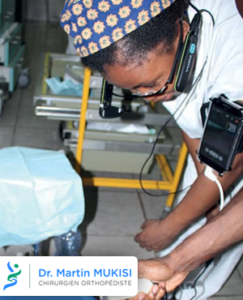 Allow students or residents to perform some procedures on a patient by themselves while being constantly monitored by a senior doctor. It can help trainees to gain independence and self – confidence. This method can also be used to record students' actions and their evaluation.
Telementoring : care of chronic wounds use case
Guadeloupe has only a few specialists for the follow-up of chronic wounds. Pr Mukisi Mukaza, an orthopedic trauma surgeon, adopted XpertEye for teleconsulting, and telementoring of a nurse who is cleaning the chronic wound at the patient's home. Equipped with smart glasses, the nurse works hands-free and communicates directly with the professor, who can guide and supervise her gestures.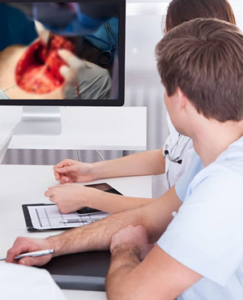 Allow medical professionals to continuously observe and give feedback to remote students. Surgeons can show students what to do and how to do it, verify if the trainee is producing their gestures accurately and correct when necessary.
"Do What I Do" remote training for medical students
With smart glasses on, an experienced surgeon can remotely guide medical trainees through step-by-step, "Do What I Do" procedures. The professor can show surgical gestures to students, which they will reproduce in real-time, allowing instant feedback.
Want to discuss your use case with one of our project managers?
Go ahead. Book your meeting.